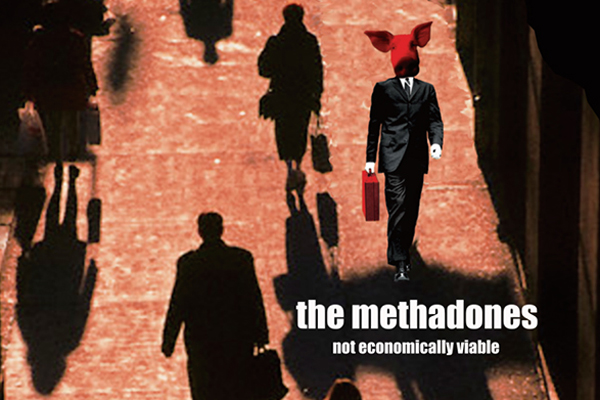 This January Underground Communiqué Records will rerelease The Methadones' classic 2004 album, Not Economically Viable. It was remixed by Matt Allison at Atlas Studios and basically rebuilt using various master tracks from the original recording sessions. The end result is a complete and highly favorable reproduction of one of the best pop punk records of the last decade. Also included is a previously unreleased song called "Let's Call It a Night." The LP will be available on three different colors; white, clear red and clear with smoke, and will feature updated album art as well. Check out the new version of "Sorry to Keep You Waiting" below.
Audio clip: Adobe Flash Player (version 9 or above) is required to play this audio clip. Download the latest version here. You also need to have JavaScript enabled in your browser.

Last week The Mighty Mighty Bosstones released their ninth studio album, The Magic of Youth, and we spoke with singer Dicky Barrett on the day the record came out. We discussed the meaning of the album's title, its recording process and what some of the songs are about. We also talked about the band's recent performances at Fenway Park with Dropkick Murphys, their upcoming Hometown Throwdown shows at the end of December and more. The Bosstones formed in 1983 and helped define both the ska/punk genre and the third wave ska movement. They enjoyed a considerable amount of mainstream success in the mid-'90s before announcing a hiatus in late 2003. Four years later they reunited and have remained active ever since. Their new record is one of the strongest and most consistent Bosstones albums to date and will surely please longtime fans. Look for the band to tour as time permits and to continue supporting The Magic of Youth in 2012. Continue Reading…

Asian Man Records – Release Date: 11/28/11
Former Groovie Ghoulies frontman Kepi Ghoulie is back with a new album titled I Bleed Rock 'N' Roll, his first since 2009's Life Sentence. The album starts out with the short, sweet and defining "Rock 'N' Roll Shark," which sends the strong message that like a shark that stops swimming, Kepi will die if he stops rockin'. "Nikki Lee" is a very upbeat, Chuck Berry-esque rock 'n' roll tune, and one of the album's strongest. The title track reinforces the opener as Kepi sings, "I bleed rock 'n' roll. I believe in rock 'n' roll. When every single friend is gone, the music just keeps playing on and out into the universe, second verse same as the first." To Kepi, rock 'n' roll is more than just a job or a passion; to him it's a way of life. Kepi also re-recorded "When I'm Gone," which originally appeared on his solo EP, Yes Depression. The new version is electrified and the guitar work is reminiscent of something out of a rock 'n' roll standard. Another revisited track is "Love to Give," which originally appeared as "(I've Got) Love to Give," on the Groovie Ghoulies' final album in 2007, 99 Lives. There is one cover that Kepi chose for this album, and that's Johnny Thunders' "Blame It on Mom." I enjoy Kepi's cover better because he left out the saxophone. My favorite track on the album is "The Fever," for its infectious chorus and dedicated lyrics. I'm with Kepi when he says, "What the world needs now is rock 'n' roll." The album closes with a melancholy acoustic song called "Hard to Forget," which surprised me as a closer. I wish it were toward the middle of the album, so it would serve as a break, but the album is still strong. I Bleed Rock 'N' Roll pleasantly surprised me. Kepi branches further from his previous material and continues to make great songs, and also revisit and put a twist on some old ones.
– Jason Duarte