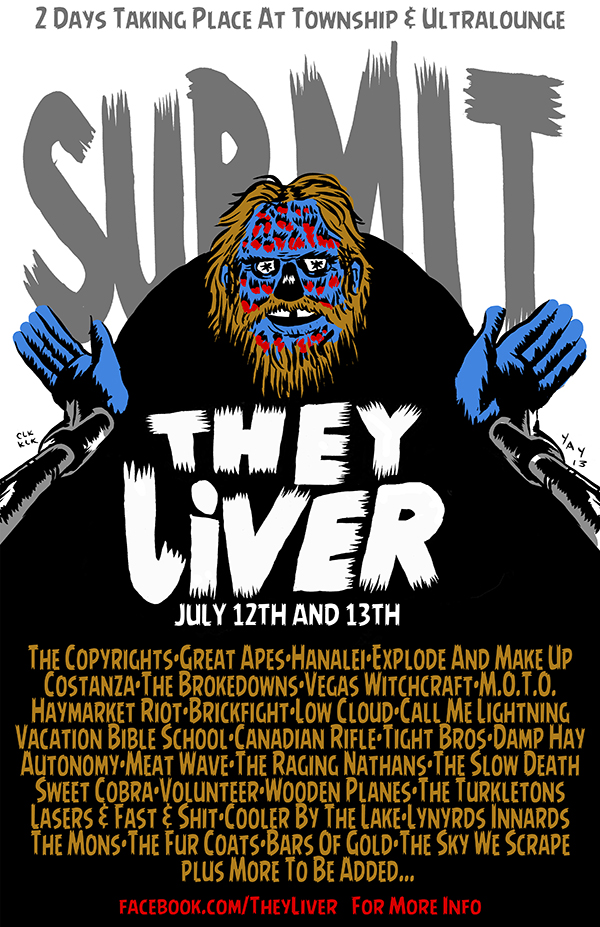 They Liver is set to take place Friday, July 12th and Saturday, July 13th, at both Township and Ultra Lounge. Over 35 bands are scheduled to play, including local and national acts. The event gets underway at 5:00 PM on Friday at Township, with performances by The Slow Death, Vacation Bible School, The Brokedowns, M.O.T.O. and more. At 6:00 PM on Friday, Ultra Lounge hosts Meat Wave, Great Apes, Canadian Rifle and Sweet Cobra, as well as five additional bands. Saturday starts again at Township at 5:00 PM, with The Sky We Scrape, Hanalei, The Copyrights and others scheduled to play. The fourth and final show begins at 6:00 PM on Saturday at Ultra Lounge, and features Rollo Tomasi, The Mons, Explode and Make Up, Damp Hay, The Fur Coats, Lynyrds Innards, Haymarket Riot, Cooler by the Lake and more. All shows cost $12, but weekend passes are available too. The Township shows are 18+, while Ultra Lounge is 21 and over. We spoke with the men behind They Liver, Vito Nusret and Ian Floetl, and talked about how they organized the event, the various bands that are playing, what's unique about these shows and more.
Bill – Where did you get the idea to start They Liver?
Vito – Ian Floetl absconded with the idea from one Jonathan Pool of Brickfight fame.
Ian – That's about it.
Bill – What does its name mean?
Vito – The name is a reference to a John Carpenter film/Rowdy Roddy Piper vehicle and the participants' immense alcoholism.
Ian – Not to mention booking it dragged on like the movie's famous fight scene.
Vito – Totally, plus Jim Miller owns the rights to the name "Ian's Party," so we couldn't call it that without paying him thousands.
Ian – John Carpenter seems a lot less litigious than Jim.
Bill – How did you go about putting together and organizing They Liver?
Vito – We set up the fest by berating our friends and loved ones nonstop for months.
Ian – When the berating didn't work we laid on the guilt.
Vito – When all that failed we just booked other bands. Pretty good ones too.
Bill – What bands are you most excited to see and why?
Ian – I'm most excited to see The Brokedowns take a break from popping out an endless line of offspring to play a show. I bet one of their wives will be pregnant by then though. We hope to pay them in condoms.
Vito – I'm the wrong guy to ask since I like them all, but I must say I'm excited to see Great Apes all the way from San Francisco. Can't say I'm not juiced about Bars of Gold and The Copyrights too.
Bill – How would you describe this lineup of bands?
Vito – I would describe this lineup as four thematic musical selections, based on the four bodily humors, (black bile, yellow bile, phlegm and blood).
Ian – While I would describe it as the four classical elements.
Vito – Which ones?
Ian – Earth, wind, fire and water. I don't believe in æther. That's hippy shit.
Bill – Would you say that these bands share much in common?
Ian – I'd say the common link is drinking to regrettable levels.
Bill – Compared to other music festivals, what's unique about They Liver?
Vito – A ticket price under $100.
Ian – And Ben Eads will be in attendance.
Bill – Why should someone check out these shows?
Vito – Otherwise Ben Eads will be lonely.
Bill – What are your goals for the weekend?
Ian – Making it out alive with the fewest casualties.
Bill – Will there be future They Liver events?
Vito – We will return in 2014 for Ian's Party 7…
Ian – …The Search for Jim Miller's Keys!