Meeting in a quiet diner in the heart of Chicago's Logan Square neighborhood was the perfect setup for an interview with J.R. Robinson. It's here that the sound composer behind the experimental drone project known as Wrekmeister Harmonies has lived and worked for a number of years, often flitting under the radar and spending a lot of late nights creating the epically winding and dramatic opuses that have become his trademark.
His latest, and arguably best, is called "Night Of Your Ascension," comprised of the 30-plus-minute title track and another shorter piece, "Run Priest Run," that are respectively inspired by the lives of 16th century musician and murderer Don Carlo Gesualdo and disgraced priest Father John Geoghan, one of the most significant perpetrators in the sex abuse scandals that plagued the Catholic Church the last two decades. Musically, both characteristically feature a combination of peaceful choirs and graceful string sections that quickly degrade into guttural howls, crashing cymbals and assaultive guitars. An assembly of 30 musicians collectively helped Robinson bring the album to life—a list that includes members of Einstürzende Neubauten, The Body, Indian, Bloodiest, Cave and Come, as well as harpist Mary Lattimore and indie folk singer Marissa Nadler.
There's reason why folks like these—and members of Godspeed You! Black Emperor who will be featured in an upcoming project as he explains below—flock to Robinson. He's a musician's musician, a guy who scouts for talent at choral concerts, blurs the line between classical symphonies and contemporary metal and records in crematoriums for effect. Yet he's also multilateral, a visual thinker able to see the full picture (with short films that often accompany live performances) and a storyteller who makes you understand the narrative woven into his score without ever uttering a word (his music for the most part is lyric-less).
Though the first two Wrekmeister Harmonies releases—2013's "You've Always Meant So Much To Me" and 2014's "Then It All Came Down"—were impressive starts, it is perhaps "Night Of Your Ascension" where Robinson solidifies himself as an auteur. It was released though Thrill Jockey on November 13th, Friday the 13th to be exact, which is perhaps more coincidental for being the same day as the national release of the film "Spotlight," which follows the Boston Globe's exhaustive coverage of disgraced priests like Geoghan, and also the same the day Robinson finally checks out of Chicago and picks up the next part of his journey due West where everything eventually sets. Continue Reading…

Last month, Dillinger Four played the Double Door as part of a brief tour commemorating their 21st anniversary as a band. After the string of shows wrapped up, we talked with singer/bassist Patrick "Paddy" Costello about how everything went. We also discussed the band's history, including some of the more noteworthy shows they've played in Chicago over the years. In addition, we conversed about D4's most recent album, Civil War, and Costello touched on some of what they have planned for next year, which involves releasing new material and more touring.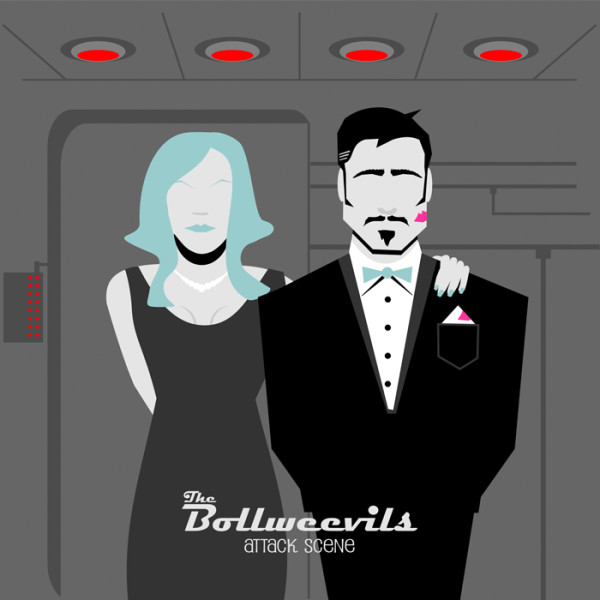 In August of this year, The Bollweevils released a new 7" via Underground Communiqué, entitled Attack Scene. It marks the band's first new material in 17 years. Containing two tracks in total, the 7" was recorded at Million Yen Studios by Jeff Dean and was mastered at Azimuth Mastering by Bill Henderson. The cover art was done by Wade Marks and the record is available on clear blue or black vinyl. When asked how it feels to be releasing new music for the first time in many years, singer Daryl Wilson explained "Damn it's been too long! It's exciting! Love the new songs and we are totally excited to get the other new songs recorded and released. We have gotten so much better with the passage of time and are having a blast doing what we do. It's the best feeling seeing something we created come together and have the opportunity to share that creation with others. Especially if those people like it as much as we do." Combining the melody of their Stick Your Neck Out! LP with the aggression and hardcore tendencies of Heavyweight, these songs find the band sounding invigorated and developing upon the sound in which they're known for.
We're streaming the record's first song below, "Honesty Isn't So Simple," and asked Wilson what inspired its lyrics. He said, "Everyone has aspects of themselves that they never reveal. It's really hard to be completely honest and show vulnerability to other people. If you show your hand you fear that it's not always reciprocated. All we want in life is to trust others but it's pretty hard to do that sometimes." While the subject matter is fairly serious, the band definitely shows their humorous side on Attack Scene's other track, "The Bollweevils Anthem." Take a listen to "Honesty Isn't So Simple" below and purchase the record here.
Also, this Thursday, 11/05, The Bollweevils are playing at 1st Ward, (2033 W. North Ave.) with Break Anchor, Union 13 and The Mizzerables. The show starts at 8:00 PM, is 18+ and costs $10. Tickets for the event can be obtained here.
Audio clip: Adobe Flash Player (version 9 or above) is required to play this audio clip. Download the latest version here. You also need to have JavaScript enabled in your browser.