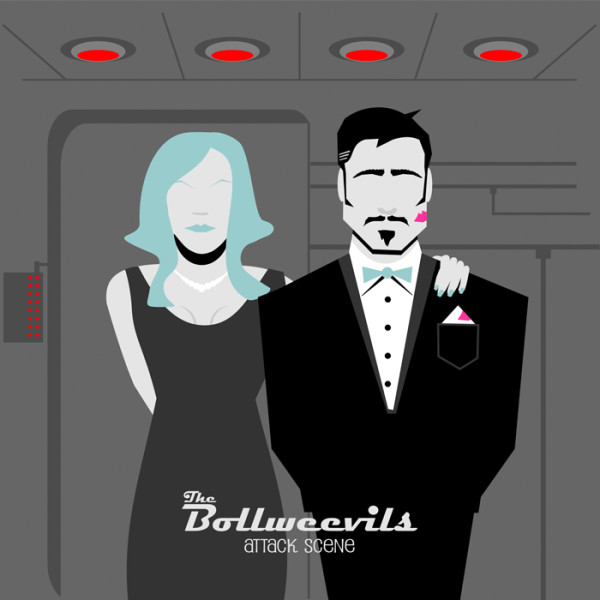 In August of this year, The Bollweevils released a new 7" via Underground Communiqué, entitled Attack Scene. It marks the band's first new material in 17 years. Containing two tracks in total, the 7" was recorded at Million Yen Studios by Jeff Dean and was mastered at Azimuth Mastering by Bill Henderson. The cover art was done by Wade Marks and the record is available on clear blue or black vinyl. When asked how it feels to be releasing new music for the first time in many years, singer Daryl Wilson explained "Damn it's been too long! It's exciting! Love the new songs and we are totally excited to get the other new songs recorded and released. We have gotten so much better with the passage of time and are having a blast doing what we do. It's the best feeling seeing something we created come together and have the opportunity to share that creation with others. Especially if those people like it as much as we do." Combining the melody of their Stick Your Neck Out! LP with the aggression and hardcore tendencies of Heavyweight, these songs find the band sounding invigorated and developing upon the sound in which they're known for.
We're streaming the record's first song below, "Honesty Isn't So Simple," and asked Wilson what inspired its lyrics. He said, "Everyone has aspects of themselves that they never reveal. It's really hard to be completely honest and show vulnerability to other people. If you show your hand you fear that it's not always reciprocated. All we want in life is to trust others but it's pretty hard to do that sometimes." While the subject matter is fairly serious, the band definitely shows their humorous side on Attack Scene's other track, "The Bollweevils Anthem." Take a listen to "Honesty Isn't So Simple" below and purchase the record here.
Also, this Thursday, 11/05, The Bollweevils are playing at 1st Ward, (2033 W. North Ave.) with Break Anchor, Union 13 and The Mizzerables. The show starts at 8:00 PM, is 18+ and costs $10. Tickets for the event can be obtained here.
Audio clip: Adobe Flash Player (version 9 or above) is required to play this audio clip. Download the latest version here. You also need to have JavaScript enabled in your browser.