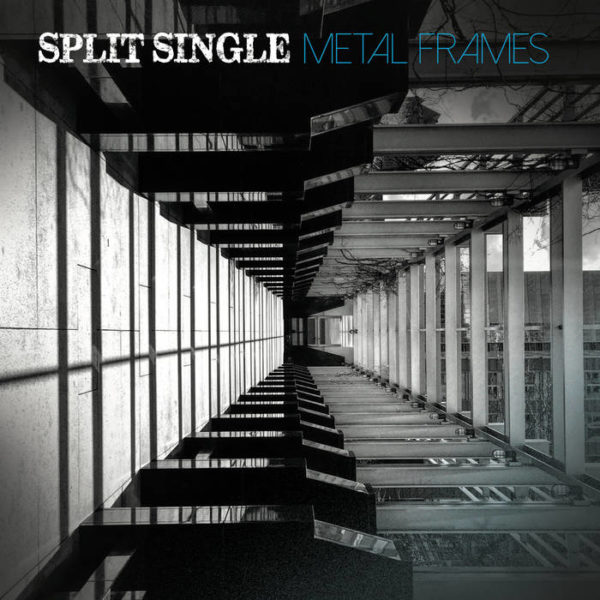 After completing a recent West Coast tour, we caught up with Split Single to discuss their latest album, Metal Frames. We spoke with singer/guitarist Jason Narducy about how the record was written and recorded, as well as the meaning behind its title. We also talked about the contributions of drummer Jon Wurster, (Superchunk) and bassist John Stirratt, (Wilco) and how their involvement helped to shape the album's sound. The end result could likely be described as carefully crafted power-pop meets melodic rock, with an underlying sense of rawness and urgency. Be sure to catch Split Single when they play Schubas on Saturday, April 22nd and check out their video for "Untry Love" after the interview.
Bill – How would you describe the writing process for Metal Frames? Were these songs that you'd worked on for a while or was it more something that came together in the studio?
Jason – My process 95% of the time is to write the chords and melody first. If I like what I hear then I'll write lyrics and tighten up the arrangement, (bridge, outro, backing vocals, etc.). Most of these songs were written in 2015 and 2016, with the exception of "Glori," which I wrote in 2009.
Bill – You recorded and mixed Metal Frames at Atlas Studios with Matt Allison. What was it like working there and what do you like best about how the recording turned out?
Jason – I worked with Matt on the first Split Single album, Fragmented World, so we had a good working relationship in place. He has great ideas and I like how quickly he works. The drum sounds alone on Metal Frames are reason enough for anyone to hire him for their albums.
Bill – How would you say that the input of Wurster and Stirratt helped to influence the style of this record?
Jason – Jon and I have made a number of albums together so we are efficient and don't need to discuss much before we have a good approach to a song. He's always prepared and is a "song guy," which means he never overplays and gives boosts when needed. John Stirratt is a phenomenal bass player. He also has a great ear for a song. I learned a lot from watching him work. He picks his moments to lock in with the drums and then other moments where he veers off. We recorded the bass and drums for 11 songs in 2 ½ days, which is all you need to know about how good these guys are.
Bill – What inspired the album's title?
Jason – It's a lyric in "Still Invisible." There's a theme of isolation and loneliness throughout the album. I liked how those two words created imagery for that.
Bill – When you go back and listen to Metal Frames now, what aspects are you most pleased with?
Jason – I like how loose the album is. You can hear amp buzz, drum stick clicks, etc. We recorded so quickly that we decided to leave some of the paint drips in the final piece.
Bill – Tell me about the video that you recently made for "Untry Love" and where its concept came from.
Jason – Like a lot of my video ideas, they come from silly ideas I have posted on social media. Before a Bob Mould Band UK tour, I posted a video of me practicing what I would do in-between the songs. Toweling off, adjusting the knobs on the amplifier, looking at my bandmates, etc. So we took it even further in the video for "Untry Love."
Bill – You guys recently completed a brief West Coast tour. What were some of the highlights from those shows?
Jason – Playing at the KEXP studio is always a pleasure and I'm thankful for their support. Some friends gave us a tour of the Pearl Jam compound in Seattle and that was fun. I've always been impressed with how that band keeps their fans involved and they have really good people working with them to execute that mission. Seeing it from the inside made me respect them even more. The Portland show at Doug Fir was pretty special. Great crowd, great venue and Guitar World magazine did a nice feature with photos from the show. I did an interview for Last Call with Carson Daly on very little sleep so we will find out whenever that airs how dumb I sound/look. It sounds corny, but I especially love hanging out with the guys. On that tour I had Erik Paparazzi (Cat Power) on bass, Doug Keith (Sharon Van Etten, Real Estate) on guitar and Tim Remis (Sweet Cobra) on drums. They are good friends and we had a fantastic time. That camaraderie is the best thing about playing in a band, (even if the lineup changes as much as it does with Split Single).
Bill – What are you looking forward to about your upcoming Chicago show at Schubas?
Jason – I have been playing Schubas for 26 years. I was 3 years old the first time. [Cough, cough]. It's one of my favorite venues to play.
Bill – What additional plans does Split Single have for 2017?
Jason – More videos, more shows. I may do some solo touring in the fall.