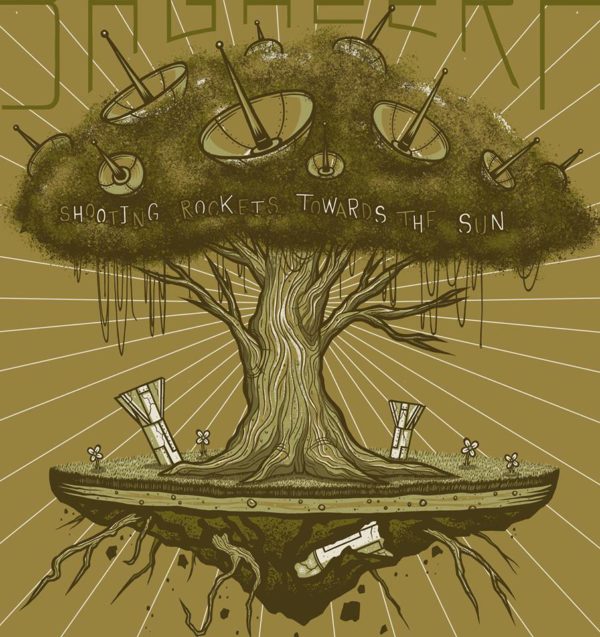 On March 28th, Bagheera released their latest album, Shooting Rockets Towards the Sun, via Skeleton Fur Records. The band's lineup consists of Theodore Moll, (MU330/Sharkanoid) and Heather Moll, (Climber). Heather plays guitar and bass, while Theodore contributes drums, guitars and keyboards, and both share vocal responsibilities. The album was recorded by the band and mixed/mastered by Lance Reynolds, (Alt-J, Ash). The record draws inspiration from things like astronomy and Roman mythology, yet at the same time addresses personal issues and human emotions as well. Musically speaking, the songs are intricate, layered and recommended for fans of Built to Spill, Rainer Maria and The Breeders.
When asked as to what inspired the album's title track, Heather said "The idea for the song is that so many people go through life without truly enjoying themselves or taking advantage of the fact that they are on this planet for such a short time. Most people are guilty of moving through life on autopilot, or moving through life looking through a lens of negativity. I am definitely guilty of this, so this song is a realization and a reminder to myself that life is short and that I have to treat it as such." Theodore elaborated when speaking about how this song in particular relates to the overall theme of the record. He said, "I hadn't thought about it until recently, but when my dad passed away, we lit off some bottle rockets at the reception after the funeral to give him a good send off. We were essentially shooting rockets towards the sun, in the same spirit as Heather had imagined writing this song. As an aside, as a result of the fireworks we set several of the neighbor's lawns on fire. I think my dad would have appreciated that. The last song on the record, 'Departing the Oort Cloud,' was written after my dad passed and was written for him, and we reused the 'towards the sun' lyric."
Take a listen to the song "Shooting Rockets Towards the Sun" below and order the record here.