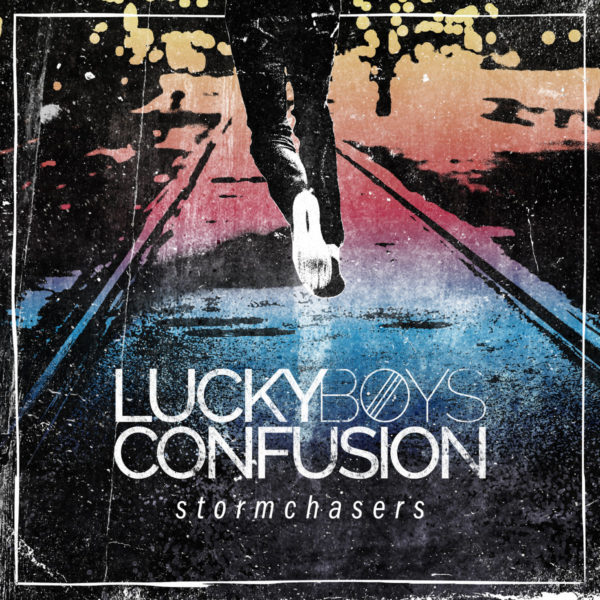 Townstyle Records – Release Date: 4/14/17
Last month, Lucky Boys Confusion released their latest album, Stormchasers, signifying the band's first new music in almost a decade. It's also their first time writing songs together since the unexpected passing of founding guitarist Joe Sell in 2012. For years it remained uncertain if they'd ever attempt to create music again, but with the passage of time it became clear that it was the right thing to do, as well as something Joe would've wanted. As they began to write, an album started to take shape organically, resulting in a collection of 12 songs that are not only cohesive, but also contemporary and mature.
The record kicks off with "I Slept with the Devil," a defiant anthem that's brimming with urgency and one that's destine to be a fan-favorite at shows. It segues nicely into "It's After Midnight," a moody and uniquely catchy track that's punctuated by the sturdy bass work of Jason Schltejann and Stubhy Pandav's impressive vocals. The near title track, "Stormchaser," utilizes subtle reggae undertones and a driving rhythm to address Sell's passing, while "Sun in My Eyes" employs a surplus of melodies to discuss perseverance and moving forward in a positive light. Additional high points include the engaging, sing-along chorus of "Burn a Little Brighter" and the emo-leaning "Your Friends Are Whispering," which slowly builds to a furious hook that is likely to evoke major crowd participation in a live setting. As the album draws to a close, one of its strongest entries can be found, called "Good Luck." Guitarist/singer Adam Krier, (AM Taxi) assumes lead vocal responsibilities for what is sure to be a top contender for one of the best songs of the summer. The track reminisces about the band's history and talks about their motivations for soldiering on, and is all the while anchored by the inspired drumming of Ryan Fergus.
Also of note is the record's production, courtesy of Johnny K, which serves to elevate the songs and really bring them to life. In short, Stormchasers is a massive return for a band whose future was in doubt for many years. By no means is it a rehash of their previous work. Instead, it sees the band confidently build upon their roots and move ahead with an underlying sense of resiliency and an eye on the future.