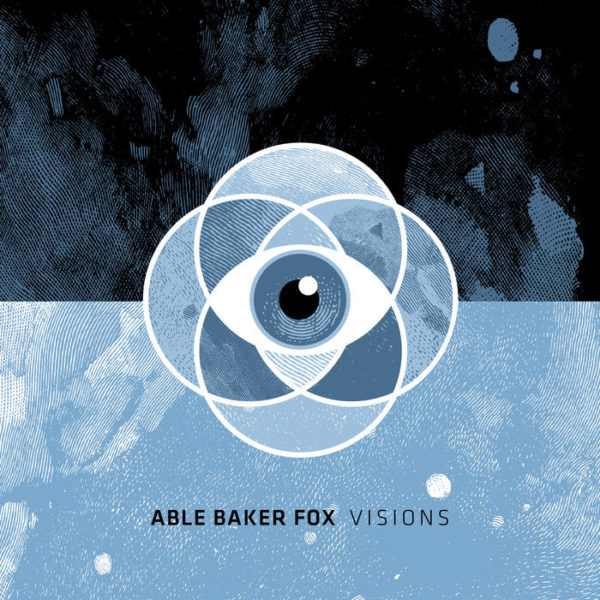 Able Baker Fox recently released their latest album, Visions, via No Sleep Records. We caught up with the band in late August before they played a show at the Metro and spoke with guitarist/singer Nathan Ellis. We talked about how the album was written, what it was like recording with J. Robbins, the band's pairing with a new record label and more. Able Baker Fox features members of the Casket Lottery and Small Brown Bike, and while Visions is rooted in the melodic post-hardcore that fans of those bands have come to anticipate, there are also plenty of new and unexpected influences found here as well. Be sure to check out a video for the album's first song, "Purple Mountains," after the interview.
Bill – With your last album being released in 2008, at what point did you begin writing songs for Visions and how would you describe the writing process?
Nathan – Well, both records were written the exact same way. And really the whole process has been pretty much exactly the same for both records in that we would write our parts separately. We'd record on computers, we'd email ideas back and forth, and just kind of end up cramming parts together. Once we had a big pot of songs to choose from we'd get together. We had about one weekend's worth of practice for both records. We'd just meet up in Michigan and practice for like two to three days. We'd cram it all together and then pretty soon after that meet in the studio and bash it out. So it's a really raw process. Both records were done in four days, so not a whole lot of time to screw up or to experiment.
Bill – It's a unique process for sure compared to what a lot of bands do. Do you think it's beneficial to do that, where you just have a few days of intense practice and go from there to right into the studio while everything's kind of fresh still?
Nathan – There's definitely pros and cons for doing it this way. You don't over think anything for sure. And I wouldn't say either record we went in very well rehearsed. When we got together for our weekends of practice, it was usually an average of two months before we actually went into the studio. So by the time we got to the studio it was like, "Holy shit. I hope we can actually pull this off in four days." That was very much the feeling both times, but so far so good.
Bill – The record's first song, "Purple Mountains," is fairly unique in terms of its structure. It opens with a softer, almost atmospheric guitar lead before transitioning to a heavy riff and then the melodic lead kind of comes back again. How exactly did that song come together?
Nathan – That big riff was the first thing we started messing around with. Mike, (guitarist Mike Reed) sent that across and I think for him it was a throwaway riff, but I loved it. I put the little lead part on it pretty quick after I got it. Initially, he had the big riff and it went into that intro part as like a second riff. We kind of just took it apart and rebuilt it that way. That's really why that intro is like that, it's just kind of hanging out there, but that's how that happened. And I think that's a riff that he sent over probably like six or seven years ago. We were like, "Hey, maybe we'll do another record," so that one has been sitting around for a while.
Bill – Very cool. Tell me about the song "Painted Shell." I read that you guys recorded it in the attic of a farmhouse that was built in the 1800's.
Nathan – Actually we didn't record it like that, that's how we wrote it. That was one of the few songs that we actually wrote in the room together. That's the difference between that song and the whole email process that we've done otherwise. That was after we got together and we were practicing all the songs. I think Mike just pulled that riff out and started playing it and we put that one together on the spot. I think it's the only song that we've done like that so far. And yeah, where we rehearsed for this record is this farmhouse that Ben, (bassist Ben Reed) was living at the time and we did it in the attic there.
Bill – What was it like recording with J. Robbins?
Nathan – It was awesome. Jeff, (drummer Jeff Gensterblum) has recorded with J. many times now, I think this was like his eighth or ninth session working with him. Mike and Ben both recorded the most recent Small Brown Bike record with him here in Chicago, but this is the first time I've ever been in the studio with him. I didn't really know what to expect. I'd met him a couple times, but that whole relationship when you start working on a project together, it's a little intimidating. Especially somebody like J. Robbins, he's a hero of mine. I think all of us have listened to those records a million times that he's played on, Government Issue all the way through Jawbox and Burning Airlines. So I was a little intimidated, but he made it really easy really quickly. He's great at what he does and he's very easy to work with.
Bill – How would you say that Visions compares to the band's debut album?
Nathan – There's a lot of parallels, mostly in the way that we did both albums. And we never really talked about it while working on Visions, that we were going to do it the exact same way. It was just the recipe that we knew, so it ended up being the process again. I think it definitely compares in that way. They both also have 11 songs. They're definitely sister records. Visions I would say is the first record I've ever recorded without Ed Rose, who recorded Voices and every other record I've ever done. That's the big difference for me. Those are the two things that I think of when I compare the two records.
Bill – How did you go about teaming with No Sleep Records for the release of the album?
Nathan – Well, No Sleep put out the last Casket Lottery record that I did a few years ago and I've just kept in touch with Chris, (label founder Chris Hansen). He's got a fully functional, kickass record label that's doing a lot all the time. We sent the record to a couple different labels whenever we finished it and talked to some people, but No Sleep was the one that really made the most sense.
Bill – What are you looking forward to in regards to playing the Metro tonight?
Nathan – I think it's interesting that as a band who's put out two records in ten years now, I think this is show number six. This will be our fourth show in Chicago, so it's a little weird. I don't know why that is. None of us live in Chicago anymore. Ben did live here when we did the first record, so the first couple of shows were here. Our second show was here with Hot Water Music and Lucero. Man, so many parallels on the two records and the way that both releases have happened. It's kind of strange to talk about it out loud and realize it. But yeah, it's a cool venue. I'm excited to be playing with 88 Fingers Louie. We just went and had dinner with those guys and were hanging out. They're old friends.
Bill – Having last played the Fest in 2008, what are you anticipating most about playing it this year?
Nathan – This year we're playing Pre-Fest and Fest, so we're flying in and we're playing on Thursday night. We're off on Friday and then we're playing Saturday night at Fest in Gainesville. It's the biggest punk rock party. It's really different than any fest that I know of. It's awesome and it feels really good. It's like the punks come to town and take over. It's really wild, it's really dirty and it's really tiring, but everybody's smiling the whole time. It's a lot of fun.
Bill – What else do you guys have planned in terms of supporting Visions and getting people to hear the record?
Nathan – We are working on some stuff other than what we have booked currently, but we're playing Crucialfest next weekend in Salt Lake City. We've got Pre-Fest and Fest at the end of October, like I mentioned. Right now those are the only shows that are completely booked and announced. We've got some other stuff that we're working on. Nothing's finalized yet. Ben is getting married in a couple weeks, so it's a busy time in his life. But yeah, we're going to try and play more shows on this record than we did on the first one for sure.
Bill – With nine years in between albums, are you hopeful that you'll get something else out sooner than nine years from now?
Nathan – Yeah and I think we will. We've joked around a little bit about that the last couple of days. We had a practice the other day and we ran through the set once and were like, "Let's just write the next record. That's good enough. Let's move on." (Laughs). But no, we all have a lot of fun in the band, the process, the way we do things, it's very low stress. We just have a lot of fun in this group. Yeah, I think that'll happen a lot sooner than nine years.