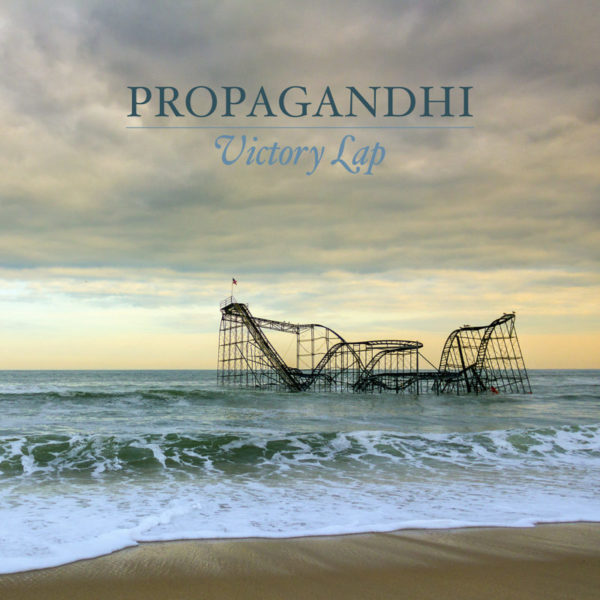 Epitaph – Release Date: 9/29/17
Last week, Propagandhi released their latest full-length and seventh overall, entitled Victory Lap. The album finds the band refining the thrash-metal tendencies that have been a signature part of their sound dating back to 2005's Potemkin City Limits, while simultaneously incorporating a hint of the melodic punk from their first two records. However, Victory Lap is not a retread in any shape or form. Instead, this album embraces sonic diversity and allows for the elevated level of musicianship to really shine through. Also, the addition of guitarist Sulynn Hago cannot be understated, as prior to her involvement Propagandhi never enjoyed such an amount of exceptional shredding.
The record begins with the title track, featuring an aggressive yet catchy riff and the thunderous drumming of Jord Samolesky. The song's pace is unrelenting, as are its lyrics that describe a crumbling America, with its citizens attempting escape only to be trapped by the proposed border wall. As topical as this track is, so too is the next highlight, "Cop Just out of Frame," which addresses police shootings, peaceful protests and looks inward, questioning the perspective of someone with a privileged background. The song employs galloping drums and several unique chord progressions before it segues to a metallic breakdown. It also spotlights the enhanced vocal skills of singer/guitarist Chris Hannah and bassist/singer Todd Kowalski, an aspect that's evident throughout the album. "Failed Imagineer" seamlessly alternates between melody and aggression in a manner that most bands can only dream of achieving, while "Call Before You Dig" just might be the record's strongest song. It uses a multitude of intricate guitar leads and rhythmic chugging to tell a tale of humans discovering the bones of an extinct species and then flashes forward, envisioning a future where ancient human bones are discovered by an alternate ruling species. The song builds to a point where the entire band is singing in unison, "That's our universe in a nutshell," and it's almost impossible not to scream along with them.
Victory Lap concludes with "Adventures in Zoochosis," a song with a quiet instrumental intro that's interlaced with recordings of some of Trump's most deplorable quotes from the campaign trail. This lasts for just over a minute before the band comes in, blasting like a defiant wall of sound with hard-charging riffs. The lyrics find hope for a better world in the next generation, while conceding that it might already be too late for some of us, ("You grab your little brother's hand, run like the wind. And if I'm not there, don't look back. Just go.") What's remarkable is that nearly 25 years after the release of their debut album, Propagandhi sounds just as relevant and energized as ever. Victory Lap is easily one of their best records and also one that doesn't claim to have all the answers, so much as it aims to encourage the listener to take action in a positive manner.