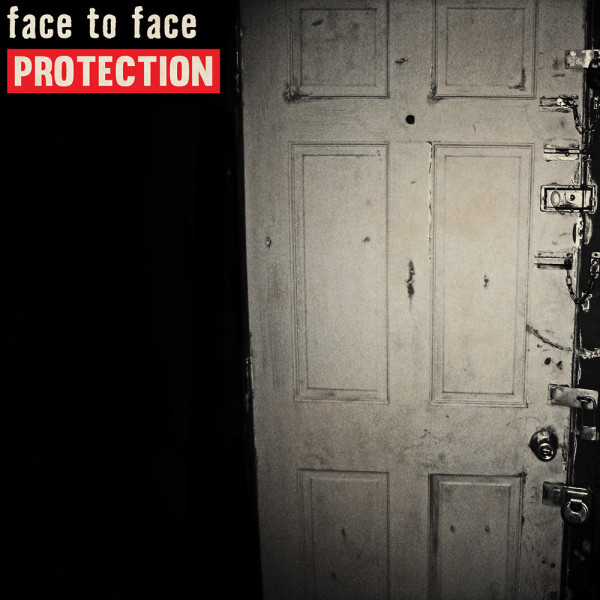 This Friday, Face to Face will release their ninth full-length, Protection. It marks the band's return to Fat Wreck Chords, a label they last worked with for the release of their debut album in 1993. We spoke with singer/guitarist Trever Keith and talked about the homecoming, as well as what it was like recording Protection with producer Bill Stevenson. We also discussed what some of the record's songs are about, how the band plans to celebrate their 25th anniversary this year, upcoming tours and more. While the essence of Face to Face's early material shines through on this album, so too do plenty of modern styles. The end result finds the band recalling past work to help further their current songwriting, and sounding especially invigorated while doing so.
Bill – With your last album coming out roughly three years ago, at what point did you start writing songs for Protection?
Trever – That's a good question. Actually about a year or so ago, no maybe more like a year and a half. I reached out to Bill Stevenson and got the idea that I wanted him to produce our next record. We had a tentative plan to record last January and my wires got crossed I guess. We weren't able to pull it off and I don't think the band was ready. It was kind of set up by the label. We were still on Rise Records at the time and then the whole thing kind of fell apart. I don't even know that we had enough songs. I'm just trying to go through and figure out how long ago it was. And then Rise kind of did their deal with some other label and they told us that we weren't going to do the record with them anymore. And so I reached out to Fat, which is something I should have done a long time ago. And that all kind of fell into place so easily and they were great to work with. And then I called Bill and he said "I think I have time in October." Then when there was a timeline, I mean I had a couple ideas bouncing around in my head, but what I really did was buckle-down and start writing. I think that must have been in July or August maybe. We did do a bunch of shows last year, but I wanted to take a month and just sit in a room and write, and I was able to do that. I don't know, it was maybe only just three to four months before we actually recorded the record, like a lot of the writing happened. Scott, (bassist Scott Shiflett) who writes also, he and I don't live in the same city, so we'll write independent of one another and then we'll just kind of compare notes on our ideas. I think he started like at least a year or more ago. He's been writing songs for a long time for this record.
Bill – You touched on the move back to Fat Wreck Chords, but what are you most excited about to be teamed up with them again?
Trever – I don't know if I would say excited, but what I've been the most happy about so far is just the ease of working with everybody over there. They've been around for 25 years, this is our 25th anniversary this year, it's a label that's been through the paces and they've been through the changes. They were around before the internet, just like we were, and they know how to market punk rock records. They know how to get them to the people that want to hear them. It was just so easy, like "Hey, we want to make a record. It costs this much." Mike, (label owner Fat Mike) would be like "Okay. Yeah. Do it with Bill. He's great. Go for it." Then we're like "Well, we want to do this kind of promotion for it." They're like "Okay. We think this isn't effective, so maybe not that but do this." I'm like "Great." There's been like no real hassles or negotiations or anything. They just know what to do, you know what I mean? We've been on so many other labels, major or otherwise, that claim they know how to do it and then they spend way too much money in all the wrong places and we end up un-recouped and people can't find the record or it's overpriced or whatever. It's just good to be with people who know what they're doing.
Bill – You mentioned working with Bill earlier and given that you guys haven't collaborated with a producer in nearly 20 years, what was it like recording Protection with him?
Trever – If it was anybody else, if it was just a producer that was some hotshot with a bunch of hit records under his belt, I think both Scott and I would come in all guarded. But knowing that we're going to work with Bill Stevenson, who has written some of my favorite punk rock songs and who's someone I have a ton of respect for, that caused us all to step our game up. We were on our best behavior and we practiced a lot before we got in there. We wanted to make sure we made a good impression and we wanted Bill to like us and like our songs. So I think we worked extra hard on it because we have nothing but respect for Bill and The Descendents are like my favorite punk rock band. To be able to have that opportunity was one that we all kind of stepped up to the plate for. Bill is a really intense guy, so at times I guess it can become a bit overwhelming, but he's just such a cool dude. We're not so far apart in age and we both grew up in southern California, so all of our references to everything when he would make jokes or talk about movies or music or anything, we just related on so many levels, all the guys in the band. Sometimes you meet people and you're like, "I feel like I've known you for like 20 years." It was sort of one of those things.
He was also able to contribute as an outside creative voice and I think that added a whole extra dimension and character to the record that certainly wouldn't have been there had he not worked on it. He was in the control room and produced every word that I sang and he helped us write background harmonies and stuff that really just added. He didn't really change much about what we were already doing other than when we finish the songs he would say, "Hey, what about cutting this verse in half?" Or "Maybe go to the chorus sooner or try this part for a bridge." Nothing too sweeping there, but when it came to recording the record, he was very hands-on when it came to the vocals specifically. He can have a background vocal idea that would have never occurred to me, so I think it made the record cooler for that.
Bill – When you go back and listen to the recording now, what aspects do you like best?
Trever – Having made eight other records, this record I think, I always cringe a little bit when I hear my own voice back on a record. And I guess the best way I can put it is I cringe least on this record when I hear my voice. I hesitate to say that I think it sounds great, but when I hear it I'm like "Yeah, okay, you actually might be able to pull off this singing thing on this record," (laughs).
Bill – This record definitely has the energy and spirit of the first couple albums, but it takes those early elements and combines them with contemporary influences. Did you guys consciously go for this kind of style or did it more just happen on its own?
Trever – There was some conscious effort toward that and I think the reason was, like I mentioned in the last answer, it's our ninth album. The first three, the band was in a groove and we had a sound and we were refining and developing it. And then I think by the fourth record, we just wanted to not be lumped in with all the other punk rock bands that were doing pop punk, so we did something really different. And then we were still trying to find our sound, it was a combination of Ignorance is Bliss and the pop punk, and that's kind of what Reactionary was. And then even different on How to Ruin Everything, you had some of that simple, immediate Face to Face-sounding stuff, but with a little bit more of an outside flair, maybe like some more British punk rock influences. So we're a band that's sort of been finding our way. With the two records we've put out since we've been playing music again, they're also unique in their own way. And I think this time around, Scott and I got together and were like "Look, let's not be worried about retreading old material." And that's the thing that's kind of kept pushing us to do different sounding records. We just wanted to make sure we didn't repeat ourselves because that's the one thing we criticize other bands for. But I think you need to have some of that familiarity in order to remain kind of in the sound of what your audience expects from you. So it was a little bit of a challenge, because we're very aware of trying to not repeat ourselves or not to sound like one of our older records. This time we were less worried about it and we just tried to make a punk rock record that was pure and spoke to the way that we're feeling.
You also have to examine yourself and what is going on with you in your life when you write songs and make a record. I think that's the part of it that's contemporary. Lyrically, it's very contemporary. Musically, it's contemporary in the sense that we've been doing this for 25 years and even if I wanted to play the way that I did 25 years ago I couldn't now. My brain doesn't go to the places on the guitar that it used to, I have much more experience behind me. So that's unavoidable, but what we did try to do was just key-in to what was simple and what worked about those early records, maybe up until the live record. Because there's immediacy to it, there's something about it that you hear and you immediately get the vibe and you get the energy and the aggression from it. We didn't want to sacrifice that, so I think what it caused us to do when we were writing songs is maybe simplify a little bit. Simplify the arrangements and simplify the message so that it comes through clearly. I think a lot of what we've done through our career is in an effort to try and make good records and write good songs, there's been some care to try and grow and change as musicians. Not that that's been a fault, but this record sort of puts some of that self-awareness aside and just keys-in on the basic goodness of punk rock and pop punk, at least in the way that we interpreted it when we were kind of starting out at the beginning of our career.
Bill – The album's first track, "Bent But Not Broken," talks about those that are somewhat close-minded and unwilling to consider differing views. What motivated you to write this song?
Trever – Well, first I want to say that I'm thrilled that you actually got the intent of my lyrics, because so far people have been kind of all over the map about what they think the song means. You understood it clearly, which is awesome to me. As a grown adult of 46 years, I've become frustrated with patterns that I see in just kind of the human condition. A lot of what I wrote about on this record I guess is from my perspective as an American, so it's not wholly worldly, but that's what my experience is so I feel like I can write about it. I just see this sentiment over and over again of people that decide that they're going to subscribe to a belief system or take things on faith, not specifically talking about religion, but that's a big part of it. And they're unwilling to change their viewpoint no matter what evidence is presented to them or even have the open mind that maybe there are things out there that we haven't yet figured out. That's what "Bent But Not Broken" is. It's saying that I think this new point is bent, but it seems like from the other side when you're trying to have these discussions with people that have that mindset, you can't really ever get them to the point of breaking. So they're bent, but they're not quite broken all the way, or otherwise they might be open-minded enough to let an idea come through that doesn't fit in perfectly to a set of beliefs that someone has already thought of. It's sort of the frustration with that close-mindedness.
Bill – The record's title track is very anthem-like and also one of my favorites. What inspired its creation and at what point did you decide to name the album after it?
Trever – Cool. Well, the song itself is from the perspective of a flawed character. It's a person that is very codependent and needs that constant reassurance from outside forces to validate their own self-worth. Sometimes I like writing from the flipside like that. I don't consider myself to be that person, but I think when you write from a flawed perspective it helps shed light to the flaw. So that's really what "Protection" is about in a nutshell. We didn't go into the record having a concept that would tie all the songs together. A lot of the songs were just written as songs and the themes weren't threaded together like some kind of rock opera or whatever, (laughs). So, it was a little bit difficult after the songs were recorded and the record was made to go like "Okay, what really sums up this record?" Scott and I both sort of agreed on Protection because we liked the vulnerability in that concept. I think there is a bit of a common thread through the lyrics, this concept of protection. Like we have this idea if we lock the door we're protected, or if we have a gun we can protect ourselves or various things that give us a sense of security, but there's always a back door or another way in. The concept of protection is also kind of a flawed idea because you're just sort of lulling yourself into a sense of security that you have this type of protection. So what it does is it shows a vulnerability that I think kind of exists, maybe not directly, but possibly indirectly through most of the song concepts.
Bill – How do you plan on celebrating your 25th anniversary as a band this year?
Trever – I'm glad you asked. We're doing a 25th anniversary limited edition watch, through Vannen Watches. They're not like high-end watches, they're art watches. They're meant to be an art piece. Even the packaging and everything, it's all very thought-out so that the whole package is like this art piece. They've made watches for The Descendents, Teenage Bottlerocket, Lagwagon and Motorhead, so they do a lot of cool stuff like that. I also intend to start doing a set of reissues of our back catalog on vinyl. Starting with Don't Turn Away, it'll be a Fat Wreck Chords and Antagonist Records, my label, co-release. They'll just be like good, gatefold versions with extended artwork. In some cases they might be re-mastered. Big Choice will absolutely be re-mastered because the original version of that doesn't sound very good, if you can find that vinyl. But yeah, we're gonna do that too. So at least the first three albums I think I can get out in 2016, but expect the rest to follow into 2017 as well. I'm also looking to do a commemorative 25th anniversary shirt that would benefit the Love Hope Strength Foundation, which is a charity I've become aware of only just last year. It's something that I think is a good cause and worth doing something for. That's some of things we plan on doing. Hopefully some other good ideas will crop up as we get deeper into the year as well.
Bill – Besides your appearance at Punk Rock Bowling in Las Vegas in late May, what else do you have planned right now in terms of touring?
Trever – Oh, a bunch of other stuff. We're going to be at the Musink festival on March 6th in Costa Mesa, way before Punk Rock Bowling. We're doing a record release show at Alex's Bar in Long Beach, which has been sold out for weeks now. It's kind of like a cool, little kickoff to the record. It's the day after the record is released, on March 5th we'll be there. It's kind of like a VIP-based show. After that we're going to Japan to play the Punkspring festival in Osaka and Tokyo, and then we'll be at Groezrock in Belgium, and then we'll be at Punk Rock Bowling. So we have some stuff leading up to that. You can find it all on our Facebook page. Our website is currently under construction, but that should be up in a week or so.
Bill – Over the last five or six years, you guys have been very busy with the amount of new music you've released and all the touring you've done. Most bands at this stage in their career don't have a similar work ethic. Why do you think you've been so prolific recently?
Trever – Because we truly, really enjoy having the opportunity to do this. I think every time throughout our career where we get to a point where we're fed up or kind of get to our wits end, we just take a break and come back to it. We're able to always kind of at least get back to a point where we just appreciate that we have such a supportive fan base and so many people that have been following us for the past 20-some years, that we feel lucky that we've been able to make that kind of a connection and that it's been sustained. We do try to remember that and every time we do it just gives us more enthusiasm and energy for keeping the band going. Doing interviews and making records and all that stuff, that's all what comes with being in the band and that's all fine and good. But our faith is restored almost every time we take the stage and play the music. You have highs and lows, ups and downs, but it's usually always just a reaffirmation when we get to go out and play music for people. There's nothing else like it and there's nothing else that I've experienced like being in Face to Face and being able to play those songs for our fans. I've made a solo record, I've done other projects in music, Scott's done other stuff in music, and there's just really no substitution for it. I think that's what gives us our work ethic. We really truly love doing it. Now that we're in our 40s, it doesn't feel like it was when we were in our 20s when we were like really trying to reach a goal of some kind of arbitrary success that we may have set for ourselves. Now we really can just truly do it for the love of doing it and that's a great place to be.